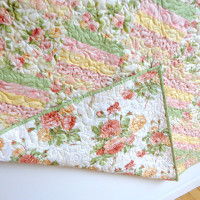 Lovely Introduction from my Daughter…
I have always admired my mom's talent for and love of sewing.  She can take a seemingly useless scrap of fabric and create a stylish outfit for Barbie and Ken.  Mom can see a photo and recreate a beautiful window treatment for her clients.  Amazingly, she even "whipped up" an outfit or two for a teenage girl who had absolutely "nothing to wear" to school the next day.  Mom lovingly stitched beautiful wedding gowns for her daughters.  Recently, she retired from sewing for other folks and learned to quilt for fun.  What beautiful creations she makes! Her grandchildren have all been grateful recipients of Mimi's quilts, each one crafted especially for that little one.  We have come to the conclusion that not only is sewing a hobby for the Quilter, it is also an addiction. (but that's a topic for another day)  Thread, patterns, books, machines, batting, fabrics.  You name it, she knows about it,  loves it and can't get enough.
Sadly, her love of and skills with the craft have not been passed along to her daughters.  She tried!  We were always welcome to visit and play in her sewing room.  We loved to play with the buttons and thread, exploring the pattern books and fabric stacks at the fabric shop was a great adventure.  Oh,  we know enough about sewing.  We can lay out a pattern, thread a machine and even press a new seam flat.  But, we choose to limit our sewing skills to buttons and maybe a hem.  We leave the rest to our quilter mother.  Poor Mom, no sewing partners here!
As the Quilter is busy quilting and now filling your orders for Old House Fabrics, she truly doesn't have time to blog.  So, the blogging is left to the Quilter's Daughter and other guests.  Watch for future blogs on the Quilter's latest projects, helpful hints on supplies, news on the latest patterns and fabrics, discussions on certain techniques or some other random ramblings.
The members of the Quilter's support team for Old House Fabrics and Quilts are so excited for the Quilter's new adventure with the debut of this site.  We welcome quilting friends and are anxious to get to know you.  Please let the Quilter know, via email if there is anything that we can do to improve your shopping experience here.  For now… click, shop, imagine and create.    Happy Shopping.
≈ The Quilter's Daughter